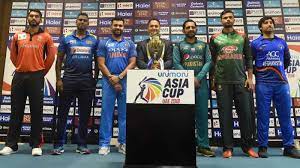 The 15th ASIA CUP 2022 will take place from August 27 through September 11, 2022. The Asian Cricket Council (ACC) officially released the ASIA CUP 2022 cricket schedule after a two-year wait. The Asian Cricket Council relocated the ASIA CUP 2022 to the United Arab Emirates due to the current circumstances in Sri Lanka. However, Sri Lanka still holds exclusive hosting rights. You can find the most recent ASIA CUP 2022 schedule in this article.
Read more: Who has smashed most 4s in Asia Cup
| | |
| --- | --- |
| ASIA CUP 2022 Dates | 27 August 2022 – 11 September 2022 |
| Administrator | Asian Cricket Council (ACC) |
| Cricket Format | Twenty20 International |
| Host(s) | Sri Lanka |
| Venue | UAE (United Arab Emirates) |
| Participants Count | 6 |
| Prize Amount | 200,000 $ USD |
| Opening Match | 27 August 2022 |
| Official Website | https://asiancricket.org/ |
Read more: Lowest Scores in Asia Cup history
ASIA CUP Teams 2022
Six Asian teams will compete in the SIA Cup 2022, according to the sources. Bangladesh, Afghanistan, Pakistan, Sri Lanka, and India are already eligible. One team each from Kuwait, Singapore, the United Arab Emirates, and Hong Kong will qualify and join the other teams.
2022 ASIA CUP Venue
UAE will host the 2022 Asia Cup in place of Sri Lanka. The specifics of the host and the location have been updated.
Read more: Who has played the most number of Asia Cup matches as captain
The following cricket grounds will host the ASIA Cup in 2022:
Dubai International Stadium
Sharjah Cricket Association Stadium
ASIA CUP Groups for 2022
There are 6 teams overall, split into 2 groups. The ASIA CUP 2022 Group details are listed below:
Asian Cup Format 2022
Twenty20 cricket will be used for the ASI Cup 2022. Four teams will advance to the super four. The ASIA CUP 2022 cricket cup will be decided by a match between the top two teams in the point standings.
Read more: Best Batting Teams in Asia Cup
Asia Cup Time Table 2022 FAQs
The most Asia Cup winners?
Team India now holds the record for the most Asia Cup titles won with their seven victories, while Sri Lanka is in second place with five.
When will the 2022 Asia Cup start?
The start date and end date of the Asia Cup 2022 have been made public, along with the itinerary for the competition. Asia Cup 2022 will start on August 27 of this year and end on September 11 of the same year.
3) What is the Asia Cup's current structure?
format T20